«The best teachers teach from the heart, not from the book.»

Anonymous
Este articulo también esta disponible en Español
Today´s article is the third in our series about helping you to choose the perfect English teacher. So far, we have talked about whether to choose a native or bilingual teacher and the differences between online and face-to-face classes.  
Today we are going to look at question number 3:
"Should I choose academy-style textbook-based classes or personalised private conversation classes?"
Generally speaking, there are two kinds of approaches to learning English;
Academy-style group classes (face to face or online). Usually follow a set textbook methodology.
Private conversation classes (face to face or online). Usually based on speaking and listening.
Here is a comparison of the two approaches: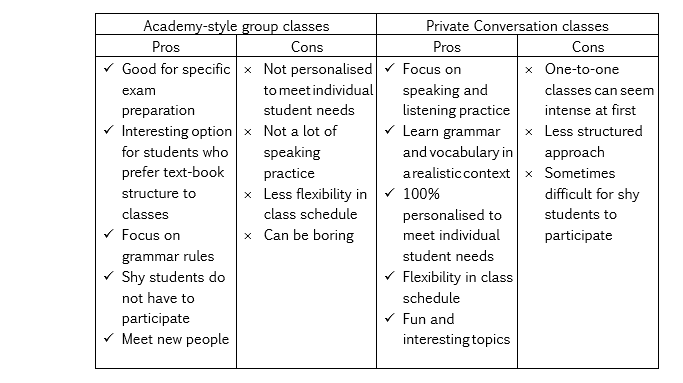 Now for the most important step. To make the decision between academy or private conversation classes, you need to define your objectives. Start by asking yourself the following questions:
Why do I want/need to learn English? (Exam preparation, improve communication, professional goals, etc.)
What kind of learner am I? (Do I prefer classes to follow a fixed structure or do I prefer classes to evolve depending on my progress?)
Do I need flexibility in the class schedule? (Do I need to be able to change my class schedule if necessary? Or can I adapt my day to fit into a fixed class schedule?)
Does the idea of speaking in English for an entire class make me nervous? (Would I prefer to participate less in the classes or am I happy to jump in and have a go at speaking?)
You can also think about any other questions you should also include in this list and make sure you answer them honestly.
I hope this article has helped you decide whether to choose academy-style classes or take private conversation classes. If you end up choosing the latter, remember that at Breeze Lingo we have a fantastic team of professional teachers ready to help you improve your speaking and listening skills and help you gain more confidence and fluency.  
Have you already decided? Let us know in the comments section below! And remember to share this article with anyone who you think may find it useful.
Happy learning!